FairMoney is a loan app in Nigeria that offers its users an easy and stress-free way of lending money.
They launched FairMoney Loan in early March 2018. The online lending platform can now boast of disbursing over one thousand five hundred loans daily to Nigerians.
Before the launch, FairMoney has been able to help thousands of Nigerians and Nigerian businesses inch a bit closer to their dreams by providing them with the financial backing they can not afford at the moment. They have made it possible for individuals and small businesses to thrive in spite of the reality of their situation.
---
An Overview of FairMoney Loan
This loan platform provides you with a different way of getting a loan in Nigeria and it does this with no collateral. With FairMoney Loan, you can get an instant loan of up to as much as ₦500,000 without needing any paperwork or even collateral. This would be done in under five minutes or lesser.
FairMoney Loan App
The app helps you gain access to critical finance via the power of modern technology. It is fast, reliable, secure, and most of all, free!
It's an android mobile banking app that makes getting loans and paying bills very fast and easy.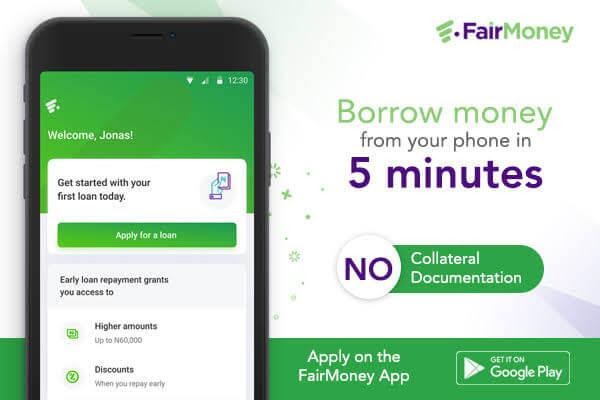 ---
How Much Can I Borrow from FairMoney and for How Long?
You can access a FairMoney Loan in the range of ₦1,500 to ₦500,000 with durations for loans up to 60 days and above. The monthly interest is also about 10%-30% monthly. The process does not incur any additional fees or hidden costs when processing your loan.
What are FairMoney Loan Requirements?
There are no requirements for getting a FairMoney loan. Simply sign up on the app and your loan will be processed. This is done without rigorous due processing like documentation and collateral.
---
Get a loan up to N100,000 at the best affordable rates in Nigeria
Now you can compare interest rates from different lenders with our loan simulator and get the best deal. Making an informed loan decision requires comparing different loan offers before making a commitment. Through our simulator, you can see at a glance, loan offers coming from different lenders in less than 5 minutes, so you can make the right decision regarding your financing. Try it today
---
How to Apply for a FairMoney Loan
Follow the steps below to get a loan from FairMoney
Download the Android application from Google Play Store. 
Sign up or log in with your phone number or Facebook profile. 
Create a profile of you're a new user or apply for a loan as an old user. 
Get credited with money in your bank account within a matter of minutes.
FairMoney takes customer experience and satisfaction as a major priority. To this effect, they have launched a new app that does this perfectly. The app is easy to use and reliable, announcing its next phase of growth as the easiest way to get a loan in Nigeria.
Getting a loan on FairMoney is easy and of course, a very straightforward process that anyone can carryout. Here are a few steps to follow when you're trying to get a loan.
These steps can't be wrong. It optimizes FairMoney to make its services accessible to every Nigerian.
---
FairMoney Loan Review
Getting a loan can be a rigorous process, with all the requirements and time taken for processing it. FairMoney makes all of that easy. This makes them a fast and reliable option to use every time.
Pros
Loan is approved within minutes
No collateral or guarantor needed
Cons
We haven't found any reason why you wouldn't want to use FairMoney. We will update this section if we do.
Bottom Line
Fairmoney is a popular loan service provider which has proven to be reliable over the years. You can obtain a loan from the platform by downloading the app and applying today.